Life is about to get harder for websites without https
In case you haven't noticed, we're on a rapid march towards a "secure by default" web when it comes to protecting traffic. For example, back in Feb this year, 20% of the Alexa Top 1 Million sites were forcing the secure scheme:

These figures are from Scott Helme's biannual report and we're looking at a 5-month-old number here. I had a quiet chat with him while writing this piece and apparently that number is now at 28% of the Top 1 Million. Even more impressive is the rate at which it's changing – the chart above shows that it's up 45% in only 6 months!
Perhaps even more impressive again is the near 60% of web requests Mozilla is seeing that are sent securely: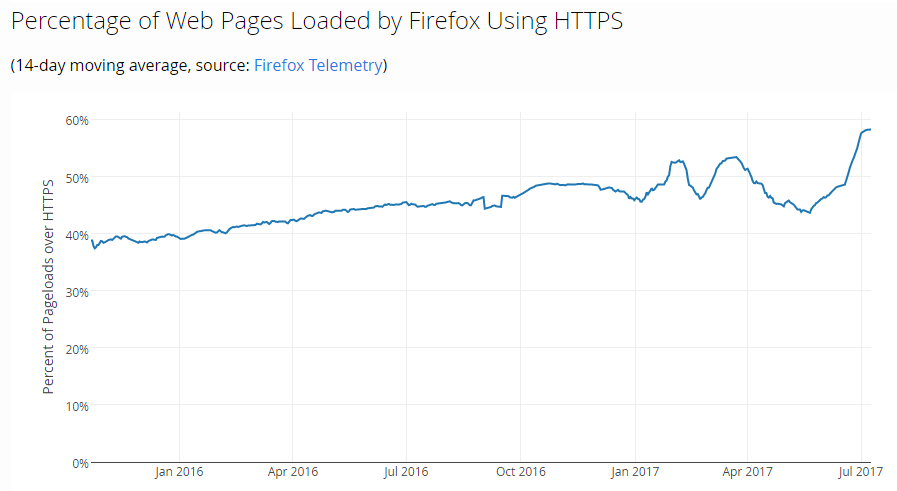 Now that's inevitably a lot of requests centred around the big players on the web who are doing HTTPS ubiquitously (think Gmail, Facebook, Twitter), but the trend is clear – HTTPS is being adopted at a fierce rate. Back in Jan I wrote about how we'd already reached the tipping point, in part because of browser measures like this:
Hi @Qantas, I just went to login to my frequent flyer account and the browser is warning me that it's not secure. Is something wrong? pic.twitter.com/6Bu4v9f5Qn

— Troy Hunt (@troyhunt) January 26, 2017
The "shaming" of websites serving login or payment forms insecurely began with Chrome in January then Firefox shortly afterwards (occasionally with rather humorous consequences). And it worked too – soon after that tweet, Qantas did indeed properly secure their site. The indignity of visitors being told that a site is insecure inevitably helps force the hand of the site operator and HTTPS follows.
But per the title of this post, life is about to get a whole lot harder for sites that aren't already doing HTTPS across the board. Here's what you're going to see in only a few months' time:

Let's dissect what's going on here: at the time of writing, we're at Chrome 59 which behaves the same as Chrome 58 in the image above so non-secure sites have no visual indicator suggesting this (at least not unless they contain a login or payment form). However, once we hit version 62 all websites with form fields served over HTTP will show a "Not secure" warning to the user. Think about what that means – for example, this site will start to show a warning:
Reference
https://www.troyhunt.com/life-is-about-to-get-harder-for-websites-without-https/